Yeti Spaghetti | Limited Edition
This option is currently sold out.
This option is currently unavailable.
Description
Coats that make it soooo quick to get Yeti Spaghetti!
Be ready with easy car seat safety for freezing weather - without any struggles!
Cheerful red ext. . . Read More
Coats that make it soooo quick to get Yeti Spaghetti!
Be ready with easy car seat safety for freezing weather - without any struggles!
Cheerful red exterior and a yeti flannel inside - this car seat coat keeps little ones warm all winter long. Fall in love with kangaroo pockets - perfect for hiding tiny treasures or giving cold hands a cozy place to snuggle.
Perfect for safer rides in the car and outdoor days in the snow with durable wind and water resistant exteriors.
***REDESIGN ALERT: You asked and we listened!***
2020 Hoods are completely removable! Now also wider and deeper with a two extra strong magnets in the back. 
NOTE: Coats run large for longer wear! No "sizing up" and adding bulk to the back.
Harness safely snug on chest & shoulders
Quick in & out of the car seat
Easy to use zipper and velcro closures
Wind & Water Resistant
Machine Washable
30 Day Worry Free Return/Exchange Policy
Crash Tested/Child Passenger Safety Technician (CPST) Approved
Consumer Product Safety Commission (CPSC) Approved
100% Polyester - Made in China
Show Less
Reviews
Customer Reviews
Write a Review
Ask a Question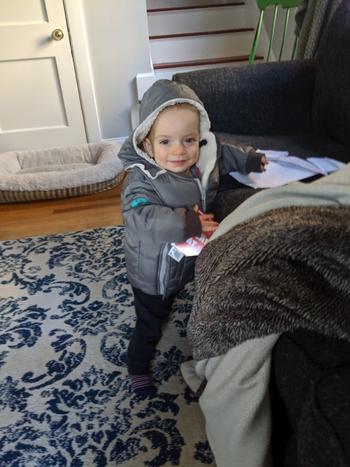 10/29/2019
Great coat
I love the look and feel of this coat. And the detachable hood that doesn't detach all the way is perfect so the hood doesn't get lost.
Shannon S.
US
09/24/2020
Adorable
This coat is adorable and fits my daughter well. She is turning 2 next week and hovers between 24M - 2T sizes, so this was the best size . It's a little big, but that's all right as it's still only September and it's not too big where she won't be properly bundled. It's too cute. A scarf and hat and boots is all she'll need to be ready for winter!
Angela M.
United States
12/11/2019
So Snuggly and Safe!
Lucas is obsessed with his new BMBC! After our first one tragically disappeared somewhere in my house I broke down and bought another and he loves it!!
Rebecca H.
US
12/09/2019
Love the coat, Not crazy about the hood
The look and style of coat is great. I really like that I don't have to take on and off his coat fo the car seat, great invention. The thing that I discovered while using the coat is the hood is something extra that has to be fiddled with that is irritating when using the coat. It's held in by magnets and Velcro and doesn't disconnect on one side so the choice to use it or not isn't an option. The coat has to be wound around his head and because there are only two magnets and the Velcro holding the thing together, sometimes the magnets to attach and the hood is dangling down. There was on day where my son was walking near a desk at a restaurant that was magnetic and the hood stuck to the desk! My husband noted that the coat always looks like it's falling apart, and it's mostly due to this semi detachable hood that doesn't attach that well. 4 stars for the coat, zero stars for the hood. Kind of wish I ordered the classic coat without the hood.
Augusto a.
US